OFFWORLDER by MIKE BARON plus Blood in the Jungle!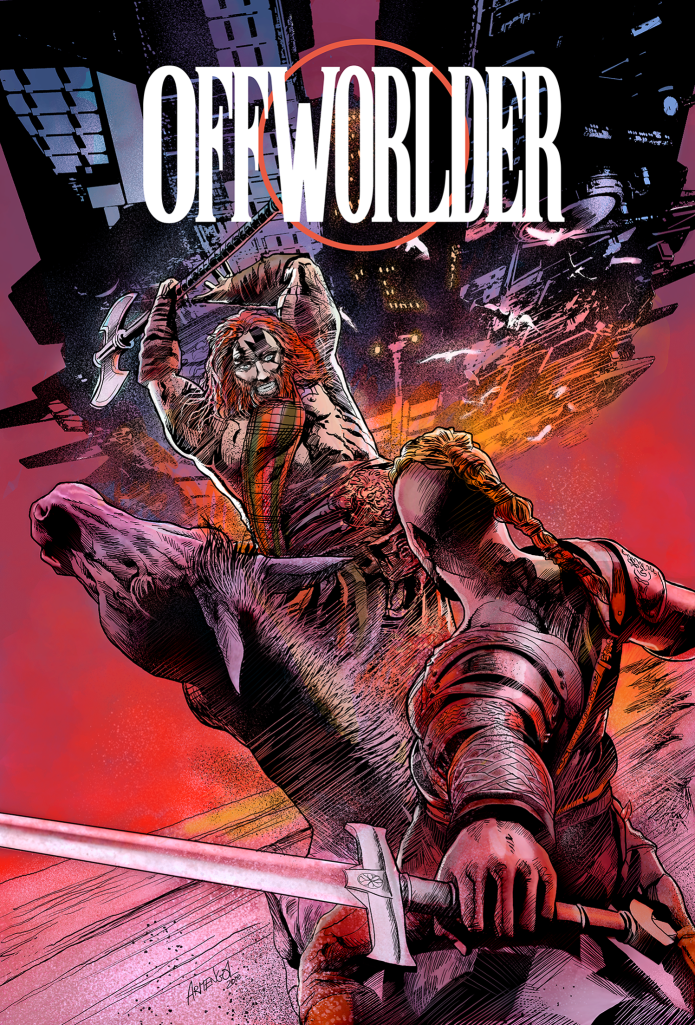 Campaign Details
Campaign Page Indiegogo
Status xClosed
Funding $18,068
Backers 348
Avg Contribution $51
Genre(s) Sci-Fi & Fantasy

Connect

Creative Team

BARBARIC ACTION! Seventh century Scotland, Henry Gunn fought to protect his family and lands from the greed and violence of Vikings.

Now an Egyptian Princess has made a desperate journey to beg Gunn to do the impossible - SACRAFICE himself to be reborn an immortal avatar of war THE OFFWORLDER.

The Lizzarsin, a wicked malevolent reptillian race are tearing through the Galaxy - enslaving or killing all life! The OFFWORLDER is the last hope of the Galaxy!

The Offworlder Indiegogo Campaign is a TRIPLE THREAT of hard driving, ACTION COMIC BOOKS.
This Campaign offers three different titles in Premium Newsprint or Glossy Editions - OFFWORLDER, BLOOD IN THE JUNGLE, and RAVAGE!

1. OFFWORLDER is the newest offering from Cautionary Comics - it features another member of the Gunn family (Randal Gunn is one of the protagonists in Ravage). Henry Gunn is a seventh century warrior-chief in Scotland - carving out a life for family - and fighting to keep them safe from Viking raiders. An Egyptian Princess makes a desperate journey to find him and convince him to sacrafice himself for save not only her people, but the entire world and galaxy from the threat of the Lizzarsin. He must die to be reborn as the Offworlder and immortal avatar of war. This comic channels the spirit of Conan, Silver Surfer, and XO-Manowar.

2. BLOOD IN THE JUNGLE is a crossover comic featuring characters from Mike Millers hit LONESTAR and putting them on a collision course with the heros and villlians of RAVAGE.

The story opens at the bombing of Pearl Harbor - and introduces a brand new Unknown Soldier (Kama O' Hekili) and the mysterior Dr. Livingstone. Lonestar and Kama pursue a vicious pair of vampires on the battlefields of Germany in World War II! Their paths cross again in the Jungles of Vietnam as the Unknown Soldiers team up with Randy Gunn and Manny Mendez - when the fight is joined by the evil reptillians the Lizzarsin and the fierce amazonian Protectori, there will be "Blood in the Jungle".

3. RAVAGE 2ND PRINTING Along with the campaign we wanted to offer a second printing of the classic adventure story RAVAGE with a brand new cover - available in newsprint or glossy printing!